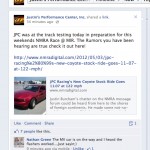 Should be a fun weekend, looks like we have some company! Justin Burcham will be there in Joe Marini's '12 GT. Thus far the car's been 11.07 @ 122… we'll see how the rest of the weekend goes.
Oh, and we can't resist a screenshot of JPC's latest Facebook post…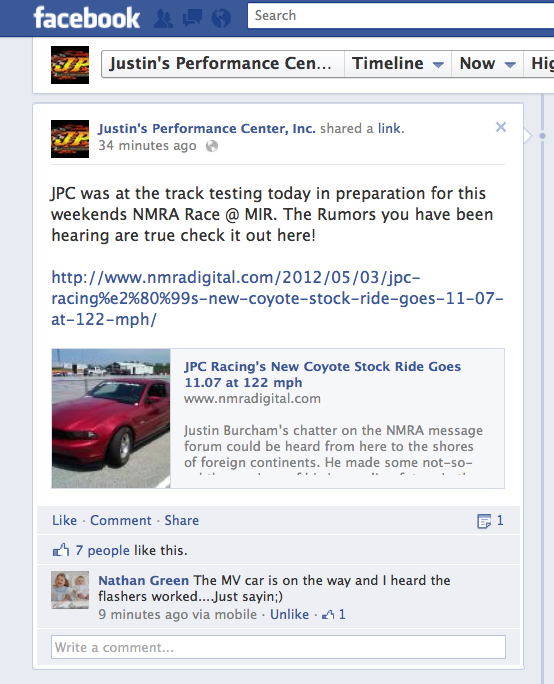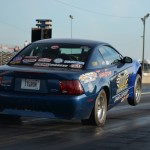 Well, the first race of the season is a wrap, and we're back home in North GA to spend the next few weeks getting ready for Atlanta. It's great to be racing again!
We headed to Bradenton with only one test session and two complete passes under our belt, unsure how many CS cars would show. OK we had some idea, but the new class did mean uncertainty on several fronts. We left Atlanta after work on Thursday and arrived at the track in Bradenton late Friday morning.  We didn't make any passes until the first pass round of qualifying.
Q1 yielded a 11.197 @  121.53 in the humid FL air and a corrected altitude of almost 2600′.  (Is it summer already?)
The technical inspection after the last qualifying pass brought a scare.  A power failure caused the car's computer to "crash" while the file was being verified, and without the help of Ken Bjonnes and Jon Lund, the weekend would have been over for us. These guys worked well into the evening to get us back on track.  I cant thank them enough for their help and fellow competitor Joe Geurtin for allowing them to copy the file from his computer.  This was a learning experience for both of us as racers and the NMRA technical department.
Sunday brought cooler weather and a bit of a tailwind, which had all the cars breathing a little easier. Only two cars had joined the Coyote Stock class for this race, so making the Final was… well, easy. But as you know, anything can happen on the track, and it's not over til it's over!
Both cars ran well, and Joe Guertin's '85 LX notchback hit the weekend's top CS mph at 122+. Despite his best run of the event, Guertin's 12.19 e.t. was no match for the trusty ol' Bullitt, which ran 10.901 @ 118.87.
Read NMRA Digital's event coverage.
Additional Event Pictures:
Joe and the CRE crew were chasing new car gremlins all weekend.  The car may be 25+ years old, but it was basically rebuilt for this race series and finished just the week before the first race.  Joe broke a transmission in testing and was having issues with the spare they had in at this race.   They were also having a hard time harnessing the power on the launch.  I suspect they will be a force to be reckoned with by the next race in Commerce, GA.  With a blistering 122+ pass in the finals they are showing they have got the power to make it happen!  I give them props for actually doing what most only talked about…  They showed up and raced in a brand new class!